bookends
in a private collection
sold through Edgewater's new venue, Edgewater Gallery on the Green, Middlebury, Vermont
Featured Artist show
April 2015
Come What May
I've driven by this little barn and outbuilding for more than
twenty years, and always felt that someone truly loved these
structures. There are huge trees sheltering the modest structures
giving the setting a comforting appeal.
As I painted this painting, I thought of one of my favorite
songs from Simon and Garfunkel:
Time it was and what a time it was, it was
A time of innocence, a time of confidences
Long ago, it must be, I have a photograph
Preserve your memories, they're all that's left you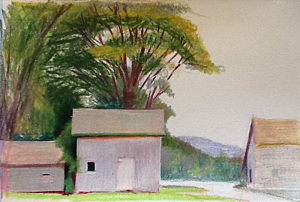 Here's the little colored pencil sketch for Bookends.