here comes the sun
In a private collection 
Featured Artist show
April 2015
Come What May
On the way to Pawlet, there are a few remarkable barns that
have stopped me in my tracks for years. This one is a haunting,
massive barn shaded by grand old maple trees. The wood siding
is fading to a lovely cobalt green and the slate roof has a pink cast
in the overcast light. I could feel the sun trying to come out and
slowly managing to break through.
And it's all right.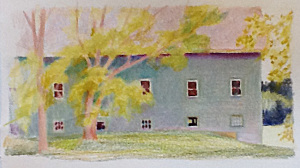 The colored pencil sketch for Here Comes the Sun