July 1, 2015
And they're off! The paintings are in transit, headed to Bridgehampton. Time to start painting again.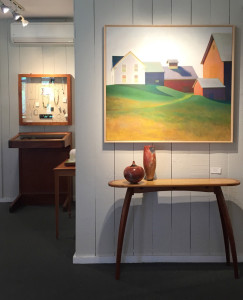 Signed, sealed and delivered! By Friday afternoon, June 21, five signed, framed paintings were delivered to Edgewater Gallery and the gallery is currently displaying some of my 'big girls' until they have to be packed up for the trip south to the Hamptons.
Since late April I've been focused on these large paintings, and if you happen to be on Long Island from July 2-5, I hope you will check out Edgewater Gallery's booth at the 'opulent private estate' where ArtHamptons is showcasing 70 galleries from around the world. It sounds amazing!
Meanwhile if you are interested in seeing the paintings before they head south, please stop by the gallery before June 29. Two of the paintings are hanging now, and the gallery will be happy to show all five to any interested folks. Please give Edgewater Gallery a call at 802-458-0098 for a private showing and pricing information! They are at 1 Mill Street, Middlebury, Vermont.
I'm happy — and a little sad –because it has been such a whirlwind and I might not see them again. (That's counting my chickens before they are hatched, I know, but it is a possibility that they will stay in the Hamptons and I'll never see them again…)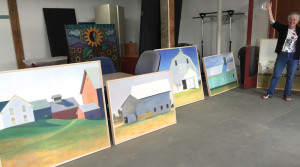 The ArtHamptons fine art fair will run from July 2-5, 2015. Historically, the fair has about 14,000 attendees, and this year the art fair is going to be located at a private estate at 900 Lumber Lane Reserve, Bridgehampton. Yikes.
past posts:
April 26, 2015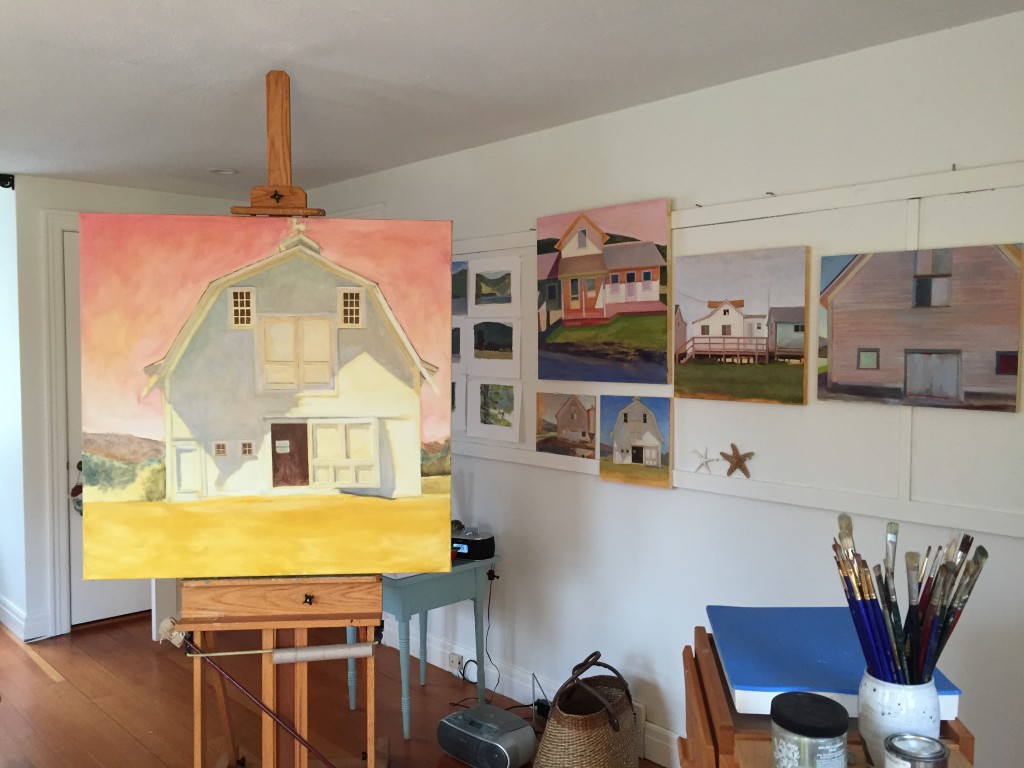 My first painting is 40″x40″ and returns me to the very first barn painting I worked on, one that brings me home to my true core every time I study it. I have a ways to go, but the early underglow of colors has me excited to keep working. I can see the twirl of the universe in the shadow on the barn.
May 21, 2015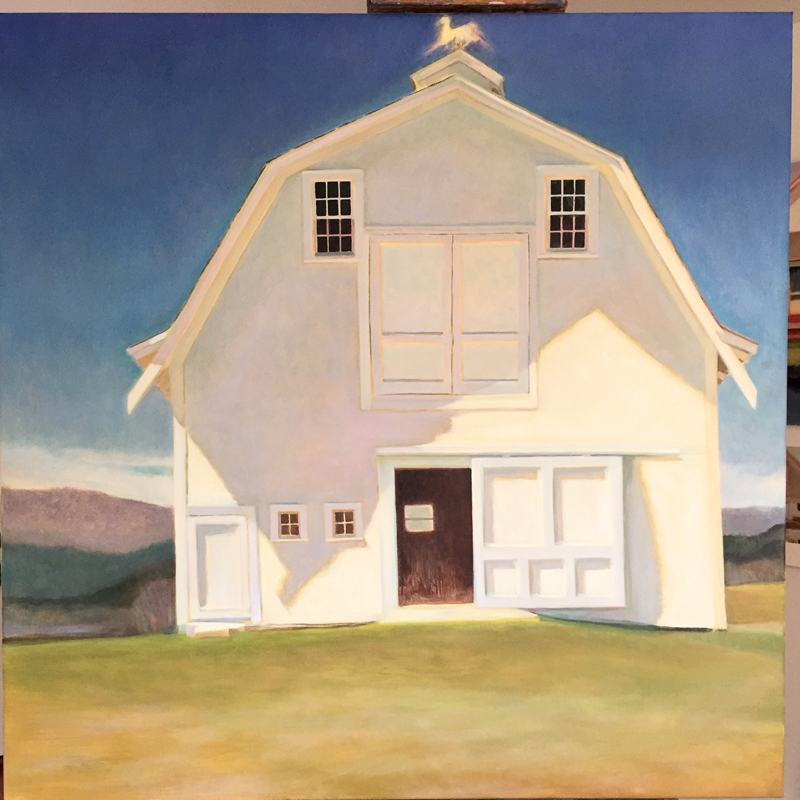 Progress (I think!) as I slowly build up the color on the Cadwell barn's shadowed and sunlit architecture, and try to capture how luminous the sky appears on a clear, cold spring day. I think I have a title, too — A Carousel of Time — which brings me full circle from that first barn painting more than 20 years ago. I named the first painting 'Grace' because I knew, after many years of struggle and loss, that I had come to exactly the right place in my life. Now, as I try to live mindfully, with as much lovingkindness as I can muster, I can see the spinning years in the twirl of that shadow on this remarkable old barn.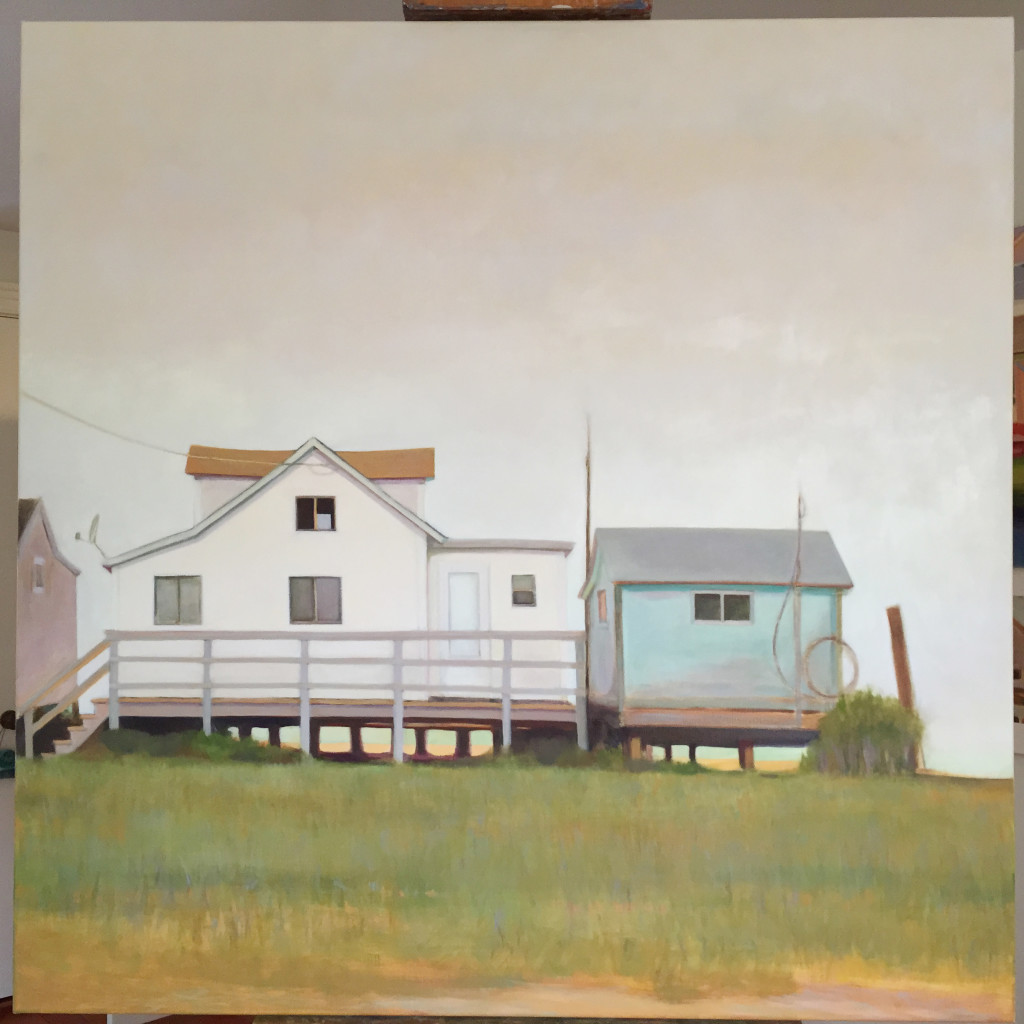 Here's another 40″x40″ painting of fishing shacks I'm working on from a pencil sketch and smaller painting I worked on last September at the shore near Atlantic City. The five new paintings have been a meditation on the inevitability of change, and I particularly love the satellite dish on the simple little camp. I love the flat bright light of mornings by the water when the air is almost iridescent, and I hope to capture the quiet peace of that moment when the earth is still and the moisture is rising up into the sky.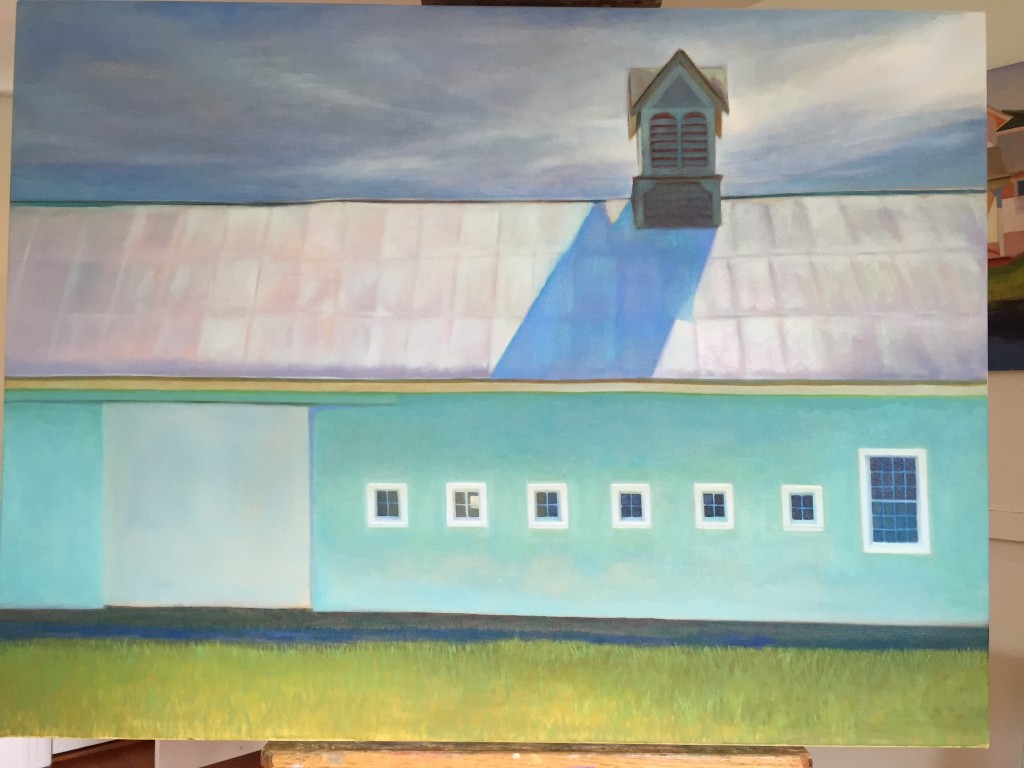 This 30″x40″ study of surfaces and light has me returning to the brilliance of a backlit white barn on a summer afternoon.