March 29 through April 2, Edgewater Gallery is taking my work to the Big Apple!
The Affordable Art Fair in New York City will be held at the Metropolitan Pavilion 125 West 18th Street (between 6th and 7th Avenues) and I hope to be there on Wednesday, the opening night.
If you can make the journey to the city, there will by around 70 galleries from around the world displaying artists' work. I hear it is an amazing experience!
I call this collection of six paintings In the Shelter of Each Other. As I painted, I discovered Pádraig Ó Tuama through an On Being podcast, and followed up by listening to every talk he has posted on the web. The wisdom to find a way to remain in a room with those we perceive to be our enemies reminds me of so many Buddhist teachings about non-discrimination and equanimity. These are concepts I hope to learn someday.
Pádraig Ó Tuama quotes an Irish proverb:
'It is in the shelter of each other that the people live'
I will continue to paint about the shelters, and the shadows, that help us to live together.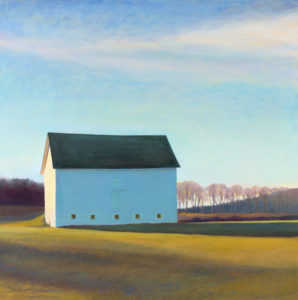 Stand Still   oil on linen  24×24