The Rutland Business Journal published an article by Peggy Armitage in early June about the VPR February 2013 fund drive, describing how I was selected.
Thank you, Peggy, for suggesting the interview! I truly appreciate your professionalism — and how much information you managed to pack into this short piece.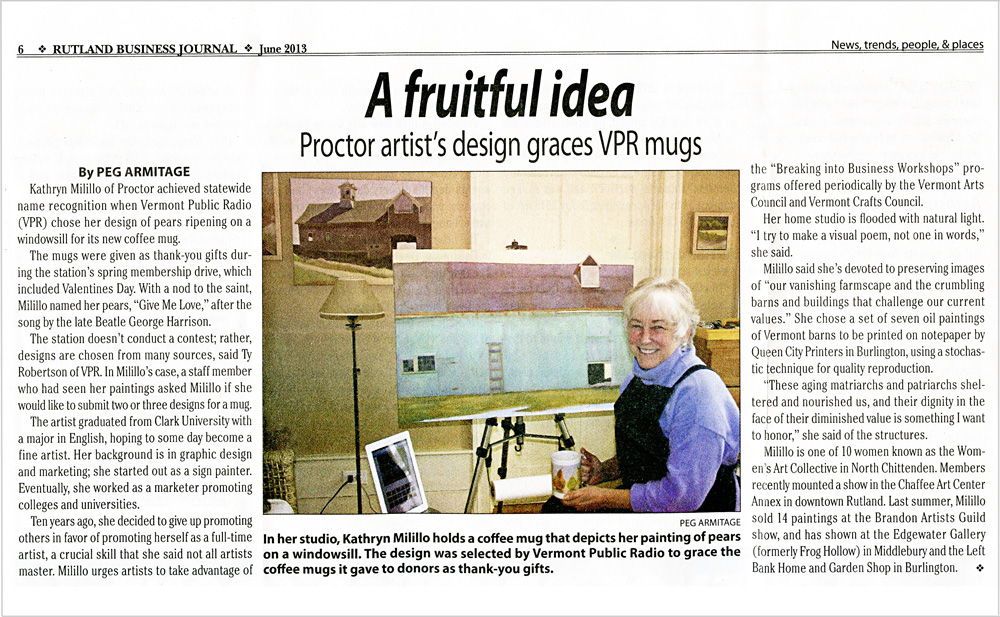 The text of the article is shown below:
A fruitful idea
Proctor artist's design graces VPR mugs Peg Armitage Kathryn Milillo of Proctor achieved statewide name recognition when Vermont Public Radio (VPR) chose her design of pears ripening on a windowsill for its new coffee mug.
The mugs were given as thank-you gifts during the station's spring membership drive, which included Valentines Day. With a nod to the saint, Milillo named her pears, "Give Me Love," after the song by the late Beatle George Harrison.
The station doesn't conduct a contest; rather, designs are chosen from many sources, said Ty Robertson of VPR. In Milillo's case, a staff member who had seen her paintings asked Milillo if she would like to submit two or three designs for a mug.
The artist graduated from Clark University with a major in English, hoping to some day become a fine artist. Her background is in graphic design and marketing; she started out as a sign painter. Eventually, she worked as a marketer promoting colleges and universities.
Ten years ago, she decided to give up promoting others in favor of promoting herself as a full-time artist, a crucial skill that she said not all artists master. Milillo urges artists to take advantage of the "Breaking into Business Workshops" programs offered periodically by the Vermont Arts Council and Vermont Crafts Council.
Her home studio is flooded with natural light. "I try to make a visual poem, not one in words," she said.
Milillo said she's devoted to preserving images of "our vanishing farmscape and the crumbling barns and buildings that challenge our current values." She chose a set of seven oil paintings of Vermont barns to be printed on notepaper by Queen City Printers in Burlington, using a stochastic technique for quality reproduction.
"These aging matriarchs and patriarchs sheltered and nourished us, and their dignity in the face of their diminished value is something I want to honor," she said of the structures.
Milillo is one of 10 women known as the Women's Art Collective in North Chittenden. Members recently mounted a show in the Chaffee Art Center Annex in downtown Rutland. Last summer, Milillo sold 14 paintings at the Brandon Artists Guild show, and has shown at the Edgewater Gallery (formerly Frog Hollow) in Middlebury and the Left Bank Home and Garden Shop in Burlington.
published by
The Rutland Business Journal, June 2013