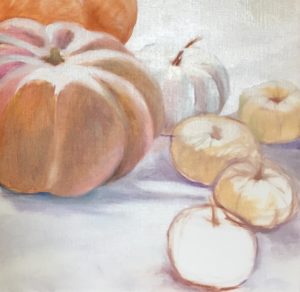 This autumn is a quiet fallow time, a time to plant rye and feed the soil for the next harvest. This little oil sketch of white and ochre pumpkins is my first foray back in the studio since an event-filled September which included my daughter's wedding and a featured artist show. I am truly grateful for the support I received from Edgewater Gallery and so many friends and patrons who viewed — and even purchased — my paintings.
I have begun thinking about words that might lead to paintings: vicissitude, iteration, this and that, faraway, sanctuary, remembrance. Each word is a universe. As I ponder words, I am more impressed than ever at poetry's spareness and the skill it takes to create such wise and intangible works of art.
Mary Oliver's poem 'Messenger' is my newest project to memorize as I jog in the morning. The part of the poem I love the most is
Are my boots old? Is my coat torn?
Am I no longer young and still not
half-perfect? Let me
keep my mind on what matters,
which is my work,
which is mostly standing still and
learning to be
astonished.