I've just delivered some new paintings of varied sizes to Edgewater Gallery
for their new gallery in Stowe, Vermont. The grand opening will be December 9
and I hope to be there to see the new space — along with old (and new) friends.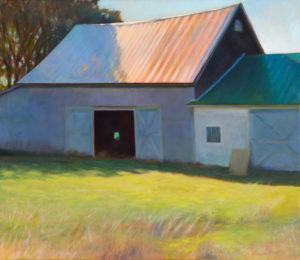 The Center of Everything  26×30 oil on linen
This new barn painting is from a barn in Panton, Vermont.
Mary Oliver's poem 'Where Does the Dance Begin, Where Does It End?'
has a lovely line about 'looking to the center of everything,
the seed, the egg, the idea.' Looking through open barn
doors and getting a glimpse of light through the darkness within
reminds me of all the ways I keep searching for insight.
Mining the same vein, the funny little teapot is one of my favorite
pieces of pottery, and I decided I needed to paint it when I read the last
lines of Mary Oliver's poem.
When the Sufi poet whirled, was he looking
outward, to the mountains so solidly there
in a white-capped ring, or was he looking
to the center of everything: the seed, the egg, the idea
that was also there,
beautiful as a thumb
curved and touching the finger, tenderly,
little love-ring,
as he whirled,
oh jug of breath,
in the garden of dust?
My teapot, called Jug of Breath, is not whirling,
but I can feel the vibrations as it gets ready to dance.