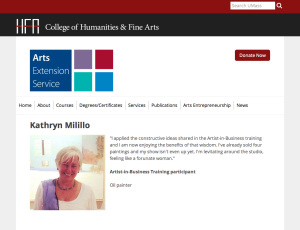 Four years ago I attended a great two-day workshop offered by the
Vermont Arts Council called "Breaking Into Business."
The workshop was a hands-on learning experience —
presented by Dee Boyle-Clapp and Maren Brown from the
UMass Arts Extension Service, it introduced me to new artist
compatriots from around Vermont and taught me new ways to
deal with my Janus-faced double life as an artist and businesswoman.
Now, I am one of the faces seen in a new brochure published
by the UMass Arts Extension Service to promote their Arts
Entrepreneurship Initiative.
check out http://www.umass.edu/aes to learn more about the program.